Advice
2022 VED tax bands explained
Find out how VED tax bands work, how much tax you'll pay for a new or used car, and the easiest ways to pay.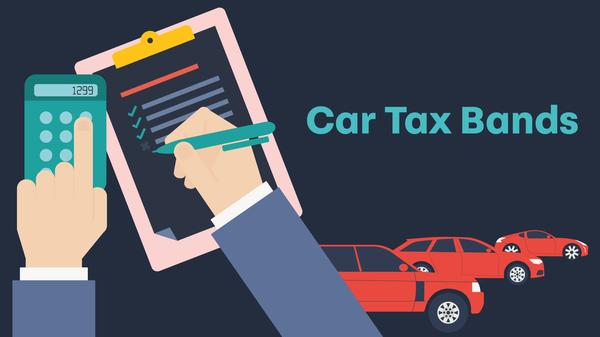 New VED rates 2022
The amount of tax you pay on your car is determined by a number of factors including the engine size, the year your car was registered and the level of CO2 emissions.
When the vehicle is first registered, you'll pay for the first 12 months of tax. After this, you'll pay the standard rate of tax every year. New VED rates are announced in each Spring Budget, and this year the new tax rates on vehicles come into effect from 1 April 2022. So, what's changed in the 2022/2023 financial year? The first year VED you pay on newly registered vehicles has increased: • Cars that produce 0g/km of CO2 will pay £0 in VED (you'll still need to register the vehicle as taxed though) • Cars that produce 1-50g/km of CO2 now have a first-year rate of £10 • Cars that produce 51-75g/km now have a first-year rate of £25 • Cars that produce 76-90g/km now have a first-year rate of £120 • Cars that produce 91-100g/km now have a first-year rate of £150 • Cars that produce 101-110g/km now have a first-year rate of £170 • Cars that produce 111-130g/km now have a first-year rate of £190 • Cars that produce 131-150g/km now have a first-year rate of £230 • Cars that produce 151-170g/km now have a first-year rate of £585 • Cars that produce 171-190g/km now have a first-year rate of £945 • Cars that produce 191-225g/km now have a first-year rate of £1,420 • Cars that produce 226-255g/km now have a first-year rate of £2,015 • Cars that produce anything above 255g/km now have a first-year rate of £2,365 If your car was registered after 2017, the standard rate of VED you'll pay after year one has increased by 6 per cent - from £155 to £165. So, after the first year, you'll pay £165 per year. If your new car had a list price of £40,000 or more, you'll pay additional rate tax, or premium car tax, which is going up by £20 to £355, or £520 per year in total. You'll pay this for the first five years after the car's registration. Alternatively-fuelled vehicles (like hybrids or LPG vehicles), will pay £155 per year in additional rate tax, or £510 per year in total. Electric cars are exempt from paying additional rate tax this year.
What does first year road tax/VED mean?
This first-year payment is calculated using the vehicle's CO2 emissions, which are measured using WLTP test standards. The level of emissions is recorded as g/km of CO2 emitted.
Cars with 0g/km of CO2 emissions have to pay nothing in the first year. At the other end of the spectrum, vehicles emitting more than 255g/km have to pay up to £2,365 in the first year. The first year's road tax/VED is usually covered in the car's 'on-the-road' price. This means it's absorbed into the overall cost of the car, so you don't have to shell out up to £2,365 on top of everything else.
<3>Standard rate VED explained
After the first year, you'll pay VED every six or 12 months at the "standard" rate.
From the second year onwards, you'll pay £165 a year for anything other than zero emissions vehicles, for which you'll pay £0 in VED.
Additional rate of VED explained
If the car has a manufacturer's list price of over £40,000, you'll have to pay a new additional rate of £355 on top of the standard rate for five years. This kicks in when you pay your second lot of VED (i.e. after the first year is complete).
After this five-year period, the vehicle will be taxed at the standard rate for that type of vehicle. Think carefully about options when you're buying a new car. The rate of VED is calculated on the list price of a car, so it'll include any options you add. If you're buying a £39,000 car and pop a few extras on, you could send the list price over £40,000 and have to pay the £355 supplement. Zero-emission vehicles are currently exempt from the additional rate.
Used car VED rates 2022
Used cars could be anything from a month old to over 50 years old. The amount of VED you pay for a used car depends on when the vehicle was first registered.

How much is VED on a used car?
If your used car was registered after 1 April 2017
You will pay the standard rate: £140 for petrol or diesel, £130 for alternatively fuelled cars and £0 for fully electric.
The £355 supplement for cars that cost over £40,000 will apply every year until the car is six years old.
If your used car was registered between 1 March 2001 and 31 March 2017
Cars registered between 1 March 2001 and 31 March 2017 are banded according to their CO2 emissions. The amount of you depends on how you pay – with options including monthly direct debits and full yearly payments.
Prices range from £0 for Band A (vehicles that produce up to 100g/km) through to £649 for two single 6-month payments on a car in Band M (vehicles that produce over 255g/km). Note that cars that have a CO2 figure over 225g/km but were registered before 23 March 2006 are included in Band K – which costs between £330 and £363 (for two single 6-month payments) for the year. The full list is available on the Gov.uk website.
If your used car was registered before 1 March 2001
VED for cars registered before 1 March 2001 is based on engine size. Your vehicle handbook will tell you the exact capacity of your engine.
The total amount you pay will depend on how you pay (monthly, annually or direct debit) but expect to pay between £170 and £178.50 if your vehicle's engine is 1549cc or smaller, and between £280 and £294 if the engine is over 1549cc.
Used car buyers also need to consider the new VED rules
The road tax rules that came into force in 2017 mean that used car buyers need to shop carefully, as the date a car is registered could have an effect on its value.
For example, a car registered on 1 March 2017 could cost less to run than an identical car registered a month later, making the older car more valuable. Related: how to transfer ownership and tax on used car.
More information on VED tax rates
What is VED?
Vehicle Excise Duty, or VED, is a tax paid on the majority of vehicles used or parked on public roads in the UK. VED is also known as vehicle tax, car tax, showroom tax or road tax.
All cars must be registered for tax, though there are some exemptions to paying the tax.
How is vehicle excise duty calculated?
Vehicle excise duty is calculated using the vehicle's age and CO2 emissions. Bigger, older engines tend to produce more CO2, and so you pay more tax on them.
Emissions are now measured using WLTP and RDE standards, which provide more accurate measures than the NEDC standards they replaced. As these standards are stricter and more accurate, cars are more likely to record higher emissions and thus be liable for more tax.
What does VED pay for?
A question every taxpayer has asked at least once: what does road tax pay for?
When VED was introduced back in 1920, it was used to pay for road maintenance. Over the years, roads got busier and the tax didn't cover it, so now the money raised by VED goes into the consolidated fund of 1926. This is a government fund, which contributes towards local projects and infrastructure. Roads are normally covered by council tax.
Are any cars exempt from VED?
Zero and low emission vehicles
Zero emission vehicles, including
electric cars
and
hydrogen-powered vehicles
pay zero road tax.
Cars registered between 1 March 2001 and 1 April 2017 that produce less than 100 grams and CO2 per kilometre driven are also exempt from paying VED.
Cars that are 40 years old or more
If a car is over 40 years old (from their date of manufacture, not date of first registration) then it can be classed as tax exempt.
The exemption comes into effect every April, so April 2021 saw all cars built prior to 1 January 1981 become exempt. To be exempt, your car will need to be classified as a historic vehicle. You can do this at a Post Office, and you'll need to take: • your log book (V5C form – needs to be in your name) • a vehicle tax reminder letter (V11 form) • a valid MOT certificate or evidence your car is MOT-exempt (V112 form)
Drivers with disabilities
Drivers with disabilities may also be entitled to free VED if they meet the following criteria:
• Use a mobility scooter or similar • Receive the Disability Living Allowance mobility component's higher rate • Receive a War Pensioner's Mobility Supplement More information is available on the
Gov website
.
What happens if you drive with no tax?
If you drive a car without tax, then you face fines of up to £1,000.
This fine applies even if the car is parked on the public road. If you have no intention of driving it for an extended period of time, you should declare it SORN (Statutory Off-Road Notification). Here's
how to SORN a car
. The DVLA runs monthly checks of all vehicles registered in the UK. If your car is untaxed and not declared SORN, you'll get an £80 fine in the post. If you pay it in 28 days, you should get a 50 per cent discount. If you don't pay the fee, it's increased. You could pay £1,000 if the case goes to court, and the DVLA can clamp your vehicle until you pay up.
Can I transfer tax as part of a sale?
Tax cannot be transferred, even if you give the car to a relative. The car needs to be taxed in the name of the new registered keeper.
Can I get a tax refund?
If you have road tax left on your car when you
sell
or scrap it, DVLA will refund any complete months that remain.
This will be done automatically if you notify DVLA of the sale (use section nine of your registration certificate V5C) or you are issued with a Certificate of Destruction. You should get a cheque within six weeks, and it'll be sent to the address on the registration certificate (V5C).
Do I need a tax disc?
No, vehicle tax discs were abolished in 2014. Nowadays, police use Automatic Number Plate Recognition (ANPR) cameras to scan registrations and check your tax status in the DVLA's database.
Do you have to pay capital gains tax when selling a car?
You don't have to pay capital gains tax when you privately sell a car. If you're selling a business car, then you'll have to pay capital gains tax as it's a business asset.
Is there a grace period for tax?
No, the car must be taxed in your name when you drive it, even at the point of sale. You used to get a five-day grace period while you waited for your tax disc to arrive but everything is online these days, so it needs to be done straight away.
Why did the government change the tax system?
The government says the changes address unfairness in the old system, as reductions in the average CO2 emissions of cars mean owners of newer cars are paying less than owners of older cars. It also said the supplement on cars of more than £40,000 will ensure those who can afford the most expensive cars make a fair contribution.
Regarding the adoption of WLTP standards, WLTP tests are more rigorous, so they give more accurate CO2 emissions readings and better reflect how a car will perform on the road. Unfortunately, these readings are likely to be higher so your tax due will go up. Learn more about
WLTP and RDE
.