Long Term Review
Living with a... Dacia Jogger (Month 1)
Affordable to buy and run while also hugely practical, the Dacia Jogger could be the car for our times – we're running one to find out if it adds up

Dacia's cost-conscious offering has been a consistent winner with the Free Trader UK audience, with you awarding it Best Value Brand and the Duster Best Value New Car in our latest New Car Awards. But Dacias aren't just popular because they're cheap, they're popular because they're good as well. As we discovered when we first met the seven-seat Jogger. Effectively an extended Sandero with a van-like rear half, the Jogger appeals for both its anti-fashion stance and its sheer value-for-money – it's quite literally a lot of car for the cash. Impressive. But will the novelty wear off after a few months of living with it? Read on to find out… Skip to: Month 1 – No frills, no nonsense
What is it?
Model: Dacia Jogger
Version: TCe 110
Spec level: Extreme SE
Options fitted: metallic paint (£595), spare wheel (£300)
Price as tested: £19,640
We like
Price
Fuel economy
Wireless Apple CarPlay
We don't like
Rear seats don't fold flat
Lack of boot space
Insufficient power for seven
Month 1 – No frills, no nonsense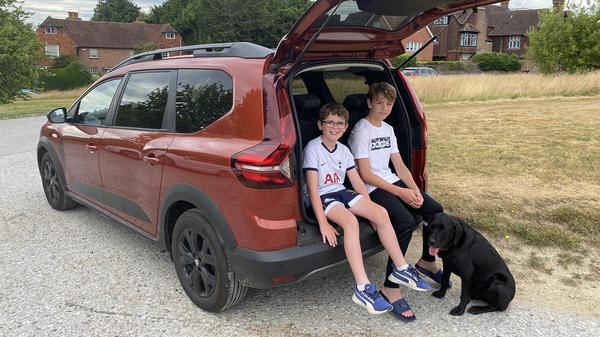 Mileage: 4,117
This is the cheapest, best-value seven-seater family car on the market. Which makes it a winner before I've even driven it, in my eyes. When you have four boys, a dog and a hectic lifestyle there is zero point in buying the luxury seven-seat SUV we all dream of. Just consider the reality - the leather gets wrecked, the cream carpets muddy, the doors scuffed, the car boot lip scraped by dog paws. And those tinged with car envy don't let you out of junctions. What you
really
want is something so insanely bargain-bucket that when the first child opens his door straight into the wall, you merely sigh. When the dog chews the seatbelt, you practically smile. And when people let you out of junctions because you're just wallpaper to them, you positively smirk. For that reason, I give you our latest charabanc, the Dacia Jogger. Evidently a Jogger not a Sprinter, with its one-litre petrol engine rowed along via six manual gears (kids love a manual gearbox, by the way - endless fun sitting up front trying to find third). And you find yourself grateful for every creature comfort at this price point - we have wireless Apple CarPlay, heated seats, hill hold, air-con, USB ports, and clever roof bars that unscrew with an Allen key and can be turned 90 degrees to form sturdy roof bars to carry whatever can't fit inside. Very clever. Indeed, we're getting a top box this month and will be taking the Jogger from Kent to Cornwall, along with the rest of England. I'm also impressed by the interior which is nastily cheap - there's smart black fabric on the seats which is tightly stitched, and flashes of a lighter mesh pattern to lighten things and add a bit of difference. So far, we've driven the Dacia around the M25, averaging about 54mpg for an acceptable trade-off for the modest power output of the engine. To be fair, it blasts merrily along with only a driver in the car, though we've yet to test it with seven of us on board. But, it goes to show, a tiny engine is no longer the hair shirt option it used to be. As
Rory discovered in his video review
the third row of seats are good and bad - they're very easy to flip down but, crucially, don't lie flat to create a load surface, so you're left with the same sized usable boot space as when they're up. Which is hardly anything - room for about four bags of shopping at best. The only answer is to remove the sixth and seventh seats completely if you want a decent boot, which is easy enough to do as they are very light. But you don't want to be constantly removing seats or putting them in depending on what each individual trip is for. The dog, for one, is most put out.
Back to top