Long Term Review
Living with a Skoda Enyaq iV (Month 2)
The Skoda Enyaq iV puts a full electric twist on the brand's reputation for value and family-friendly practicality, but what's it like to live with?
The Skoda Enyaq iV offers fantastic value for money for those looking to go electric. Frankly, you'd easily spend £40,000 on a petrol or diesel family SUV, so to find an electric one that costs the same is astounding, and puts the Enyaq iV about five years ahead of the competition.
Our version is the 80 (meaning an 82kWh
battery
, whatever that actually means to most people). This also means more power (204 horsepower) and greater range (up to 331 miles - we'll see) than the 60 model, which at the time of writing isn't currently available to order.
We've tested both previously
and, although we prefer the way the 60 handles, living with a car is a different thing. Here we're looking for maximum range now above all else, so we're happy with the 80, especially as neither version will
charge
to 100 per cent in the five-hour window of off-peak electricity for my
home plug-in point
. As I can't get a full charge either way in one night I'll go for the bigger range, regardless of how long it takes. Skip to:
Month 1 – The full package?
Month 2 – "It's not a bad life"
What is it?
Model: Skoda Enyaq iV
Version: 80
Spec level: EcoSuite
Options fitted: 21-inch alloy wheels (£550), 125kW DC battery charging (£440), metallic paint (£595), panoramic sunroof (£815), Assisted Drive Package Plus (£685), Comfort Seat Package Basic (£440), Drive Sport Package Plus (£785), Infotainment Package Plus (£740), Light and View Package Plus (£1,115),
Price as tested: £47,100
We like
Range and performance
Panoramic roof option
Stylish looks
We don't like
Not so keen on the black paint
Battery too big to charge off-peak
Unnecessary extras add expense
Month 1 – The full package?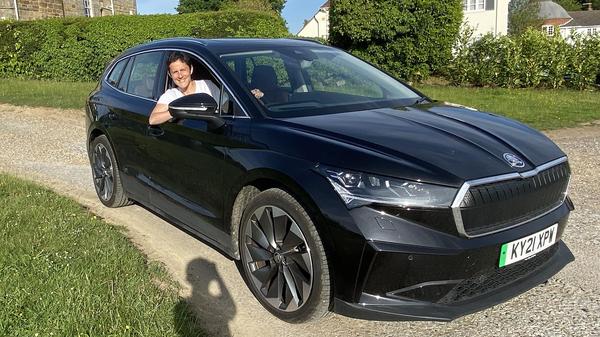 Our Enyaq iV has arrived in EcoSuite trim, which sits between basic Loft and more expensive Sportline and, as the name suggests, takes on board an extra level of eco-friendly design. So, you get the eco-leather which uses olive leaves for its tanning process as opposed to chemicals, and a high degree of recycled materials. Even with five additional packages on board (see options fitted, above), you still don't reach £50,000, and only one bundle breaks the £1,000 mark.
The Assisted Drive Package is the most useful one to have - it gives you adaptive cruise control, blind spot detection and lane assist, and an emergency call button if you've got the "Plus" part of the pack. Which is all the additional safety functions I want on a car. The Drive Sport Package with its fancy steering wheel and Light and View Package with its full LED matrix fandango, I could do without. As for the Parking Package with front parking sensors and rear-view camera … depends what sort of parker you are. Frankly, I go with "nice luxury but could forgo" on the basis the Enyaq iV has pretty good visibility as it is. I'd also tick the Convenience Package (basic version) with its wireless charging and privacy glass. And we're suckers for a panoramic sunroof in our household. If you've got any budget left over, I'd recommend the Infotainment Package Plus because it gets the head-up display for to show both your current speed the limit. Our car is black paintwork and cognac leather inside. It's not a combo I'd have gone for as it feels quite dark and masculine, but actually it's got an Italian suit vibe going on and feels like I should be driving it through Milan on my way to my job at a hedge fund. Which is surely not where Skoda ever saw itself any time within living memory.
Back to top
Month 2 - "It's not a bad life"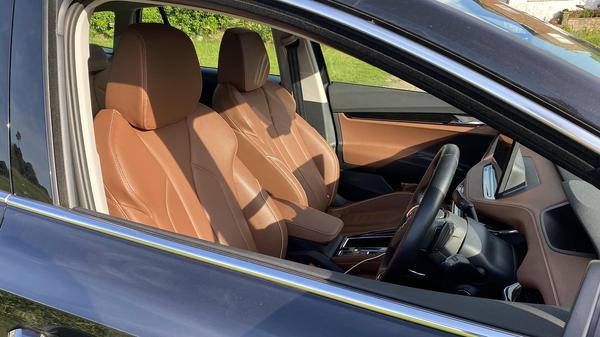 Mileage: 5,021
The claimed maximum range of the Enyaq 80 is 329 miles but we've yet to see more than 298 miles indicated by the car on a full charge. It calculates your maximum range based on your driving history, so I'm hoping with a gentle right foot we'll nudge it up over time. There's an annoying rattle in the roof lining that's been getting worse, but I've finally located the issue. When the screen over the sunroof retracts it rubs against its housing. The solution has been just to keep the screen drawn, which is needed anyway to keep the car cooler in the sun, and we don't open the sunroof much because we can't get to grips with the way the electronic slider works to tilt or fully open it. It drives us mad, so we've decided to leave the whole thing alone. The main speaker for the music in the dashboard also has a nasty vibration when a song with a lot of bass comes on (we're not talking hardcore dub, just some Paul Simon!) which is a bit disappointing. And neither my partner nor I can bear the way the climate control is set up. When you press the "clima" button, the screen automatically goes to the smart climate functions, like "cool my feet" or "warm my hands". If you just want to do normal things like turn the air-con on or off, or adjust where the air is coming from, you've got to press another button to get to standard temperature control. One more annoyance is that the Apple CarPlay function doesn't always connect, but that seems to happen with almost every new car on the road, so Skoda is no worse than the competition. On the up-side I love the huge size of the screen and, when the whole things switches to smartphone mirroring, you get a massive set of graphics to work with. The Enyaq iV also feels like a really smart, plush car inside. The kids beg me to take them to school in it because they say it feels so impressive to sit in – it's spacious and posh with its tan leather, large screen and wide dash. We also made use of the in-car umbrella the other day when my nine-year-old and I got caught in the rain while out shopping. I suddenly remembered Skodas come with an umbrella in the door, like Rolls-Royces, and, bingo, there it was. My son was beyond delight. Which reminds me, it's probably still sitting furled up, wet, in the door. A final nod this month, for the boot space for large dogs. We've taken the parcel shelf out and our Labrador is very happy in the rear, leaping in and out and lying down after his walks. My children lower the central seat back squab so they can chat to him through the opening en route to school. It's not a bad life.
Back to top