News
Tesla opens Supercharger network to other brands
Superchargers now available to non-Tesla drivers in bid to increase choice in public charging infrastructure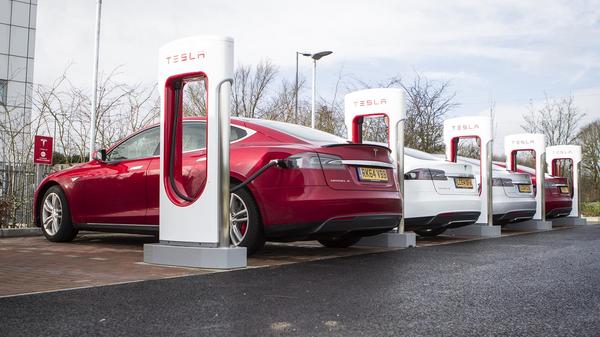 While other drivers of electric vehicles panic about
limited infrastructure
, blocked
charging
bays and flaky apps the lines of Tesla's proprietary Superchargers with their promise of constant availability and fast replenishment have been teasingly out of reach. Until now!
Building on a pilot programme that started last November Tesla has confirmed that 15 of its 98 Supercharger stations in the UK will now be available to all
electric vehicles
, not just its own. "Access to an extensive, convenient and reliable fast-charging network is critical for large-scale EV adoption," says Tesla. "More customers using the Supercharger network enables faster expansion. Our goal is to learn and iterate quickly, while continuing to aggressively expand the network, so we can eventually welcome both Tesla and non-Tesla drivers at every Supercharger worldwide." Until now access to the more than 30,000 Superchargers Tesla has installed had been reserved exclusively to its own customers, this alone a major selling point for many customers new to the brand and EVs in general. Where many motorway services in the UK might have just a handful of points to plug in and reports of queues, out of order chargers or drivers of non-EVs parking in them and blocking them (known as 'icing', after the abbreviation for 'Internal Combustion Engine') the ranks of unoccupied Tesla Superchargers have previously been out of bounds. But not anymore.
Will this mean Tesla owners suddenly having to queue with other EV drivers to use their 'own' chargers? Not so, apparently. "Tesla drivers can continue to use these stations as they always have, and we will be closely monitoring each site for congestion and listening to customers about their experiences," says the announcement, while those new to the network are encouraged to follow the
charging etiquette guide
published by the Tesla Owners UK forum. In pilot schemes Tesla says there haven't been issues of other cars blocking access to its chargers, but the firm keeps a dialogue open with its customers and encourages feedback.
Supercharger stations in Aviemore, Dundee, Adderstone, Manchester Trafford Centre, Flint, Aberystwyth, Flint, Banbury, Wyboston, Trumpington, Thetford, Wokingham, Birmingham St Andrews, Cardiff, Uxbridge and the Folkstone Eurotunnel terminal are now open to all, though you'll need to download the app to access them and pay more per kWh than Tesla customers unless you sign up to a £10.99 per month subscription. With speeds of up to 150kW on V2 Superchargers and as much as 250kW on the latest V3 ones, plugging in at a Tesla station offers super quick charging to any electric vehicle with a compatible CCS socket, which are rapidly becoming the industry standard on most cars sold in Europe. Charging at that speed even a quick 15-minute stop is enough to add 150 miles of range to a
Model Y
, though rates vary from brand to brand and not every EV can top up that quickly. Either way, opening some of its sites to non-Tesla owners increases the charging options for a much wider range of EV owners, going a long way to mitigating the range anxiety many drivers list as the main reason for not yet making the switch.