News
Win a Tesla Model 3 this December
Enter Free Trader UK's Giveaway today for your chance win a brand-new Tesla Model 3!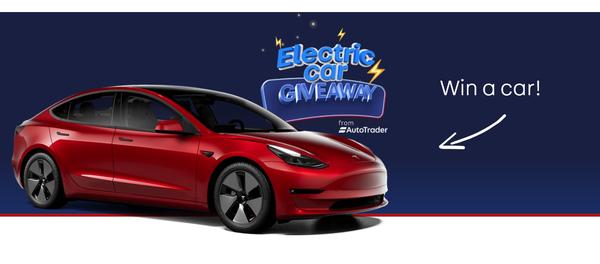 This December, you could win a brand-new Tesla Model 3 worth over £44,000 in Free Trader UK's monthly electric car giveaway!
Simply
fill in the prize draw form
at any time between 1 December 2021 and 31 December 2021 and this brand-new Tesla Model 3 could be yours for free! You'll also get up to £1,200 car insurance by
comparethemarket.com
. Previous winners have driven away in a
Lexus UX 300e
, a
Renault Twizy
, a
Mini Electric
, a
Vauxhall Corsa-e
, another
Tesla Model 3
and a
Jaguar i-PACE
. To enter, you have to be over 18 years old and a UK resident holding a full and valid UK driver's licence. There are no catches or hidden fees, and you can check out the
full terms and conditions here
. We're giving away a brand-new electric car every month, so remember to check back and enter the next prize draw for your chance to win an electric car.
Get to know the Tesla Model 3
Tesla are currently the world's leading car manufacturer, and the Model 3 is one of their biggest worldwide successes.
The
Tesla Model 3
is a saloon with a minimalist interior, gorgeous glass roof and an advanced infotainment system up front. Tesla's electric cars are known for their straight-line performance, and the Model 3 can achieve 0-62 in 5.3 seconds, with a top speed of 140 mph – comparable to some sports cars. You get a range of 305 miles in one charge, and a charging time of 15-22 hours using a standard 3kW home charger, or 22 minutes to get from 20% to 80% at a rapid charger. You'll also get access to Tesla's supercharger network, which offers fast charging to Tesla cars. There are now over 600 superchargers in the UK alone. The Model 3's battery and drive unit are protected by an eight-year/100,000-mile warranty, while the rest of the car has a four-year/50,000-mile warranty. Tesla are hugely popular thanks to their unique blend of performance, sleek design, and clever touches like overnight software upgrades that enhance or service the car. December offers you the chance to win one of the most famous electric cars on the market today, so head over to
Free Trader UK's electric car giveaway page to enter
!