Expert Review
Iveco Eurocargo review
A stalwart of British road freight across three decades, the success of the Iveco Eurocargo is down to its reliability and affordability.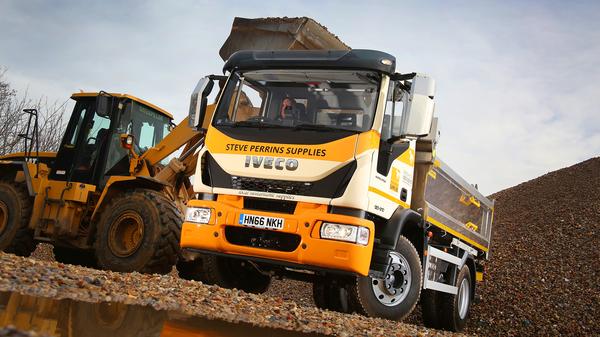 The Free Trader UK expert verdict:
At 18 tonnes gross vehicle weight it appeals to everyone from just-in-time wholesalers to the utility sector, and it always finds a second home. It's contribution to Great Britain plc cannot be undervalued.
Engines
Eurocargo's DNA dates back to 1981 when Ford launched Cargo – a no frills workhorse. A decade later it forged a partnership with Iveco to introduce Eurocargo, and in 2003 Iveco bought Ford out. Since 2001 the Euro-3 5.9-litre six-cylinder Tector engine powered the 18 tonners with a choice of three power outputs; 210, 240 and 280hp. The step up to Euro-4 arrived in October 2006 came with the addition of selective catalytic reduction (SCR) exhaust aftertreatment system (EAS) behind the Tector engine to meet the new emission standard. These Euro-4s got a decent hike in power to 250, 280 and 300hp, which was retained for Euro-5. Unlike its competitors, Iveco resisted adding exhaust gas recirculation (EGR) and instead developed its SCR to meet the new Euro-6 emission levels, which is labelled HI-eSCR. For the 180 model Iveco offer the three highest powered units from the new 6.7-litre Tector 7 engine; 250, 280 and 320hp.
Transmission
Eaton's six-speed overdrive manual was the standard gearbox in most Eurocargos at Euro-3 and -4, complimented by Iveco's own nine-speed box with direct-drive top. At Euro-4 Iveco moved the gearstick from the engine tunnel to the dash, and for Euro-5 Iveco introduced ZF's automated six-speed gearbox as standard, dubbed the 'AS-Tronic lite'. For Euro-6 Iveco offered ZF automated gearboxes with operators able to choose between a six- or a 12-speed, as well as the five-speed Allison transmission, those preferring a manual box can select either a six- or nine-speed. All are overdrive gearboxes.
Cabs
The cabs' skeleton has not changed since Eurocargo was launched in 1991, with the panels attached to it evolving with ever more aerodynamic profiling. Up to 2003 Iveco-Ford retained its box-style cab. Under its own steam Iveco introduced a subtler exterior with curvier cab panels rather than straight lines, and corner posts with built in airflow. It was revamped in 2009 for Euro-5 with wider grille slats for better air-intake. For Euro-6 the aerodynamic cab profiling was enhanced with a more contemporary look, and a single U-shaped front grille. The choice of cabs remains consistent; day and sleeper, with a choice of low or high roof.
Comfort and storage
Considering it's an 18-tonne workhorse, the comfort and the noise levels are two areas Iveco has always done well in. Perhaps the most memorable specification was the tie-up with the All Blacks, New Zealand's national rugby union team. Those Euro-5 models got a new dashboard and improved seats upholstered in black with Maori-inspired swirls. Storage in the day-cab utilised the engine tunnel, backwall and doors, as well as revamping the dashboard to consolidate the switches and provide more nooks and crannies, and connections for electrical devices.
Safety
Iveco introduced disc-brakes for front and rear axles in 2003 as standard, and operators usually went with the steel rear suspension rather than air, which was the option. It has enhanced vehicle stability control (EVSC) to correct oversteering, understeering or sudden deviations, and it adjusts engine power and braking on individual wheels at the first sign of skidding to stabilize the position of the vehicle. Iveco introduced Hill Holder and added adaptive cruise control (ACC) to the latest incarnation of Eurocargo.
Handling
Up to the arrival of Euro-5 the 18-tonne Eurocargo had the engine to match its competitors but not the transmission. The six-speed manual overdrive was simply inadequate. Running the propshaft at a quicker speed than the engine reduced torque and subsequent stress on the driveline but it lacked enough closely-rated gears to retain any momentum, especially when it was required to work on any incline carrying anything close to its GVW. Road speed nosedived rapidly as the driver struggled to bridge the gap between gears, especially down the box from fifth gear to fourth and then third. Drivers would be up and down the gearbox as often as the pistons in the engine. To get the best from any of the engine ratings it needed Iveco's own nine-speed where the gaps between gears were closer. Most operators of the Eurocargo went for the 250hp, which could cope with full loads and a loaded trailer (providing it had a nine-speed gearbox). Behind the wheel it was straightforward and functional. Drivers could hop in and out without thinking, and it drove with all the practical characteristics of a car. The introduction of more power and ZF automated 12-speed box brought the Eurocargo in line with many of its competitors.
Running costs
While fuel economy was never a great concern for operators at 18 tonnes, Iveco had a decent reputation for solid returns if the specification was right. Anything with a nine-speed or 12-speed transmission does well whereas six-speeds labour on hills and drink too much diesel. One area Iveco has prospered is choosing SCR technology for all its engines. With better EAS boxes the total running costs continue to diminish. This has also helped maintain a light chassis-cab kerbweight, one of the most competitive among western European truck manufacturers.
Price and residuals
Eurocargo has always been very affordable, and it continues to be one of the frontrunners in the retail and rental sectors. Get the specification right, and many in the second-hand market will pay attention to the chassis-cab and be willing to replace the body if it doesn't suit their business. With so many trucks driven by employees rather than owners, the poor condition of the cab – inside and out – is often down to neglect rather than build quality issues. Worn seats, manky interior and panel damage to the cab and bodywork can all lower residuals as much as high mileage. A well specified Eurocargo always fetches good money.
Warranties and dealer networks
New Eurocargo from Iveco starts with two years warranty or 200,000 kilometres, whichever is reached and breached first. Across the British mainland and Northern Ireland there are 17 main dealers, 31 satellite locations and 36 authorised repairers, totalling 84 sites. Since January 1992 (when records began) the Driver and Vehicle Standards Agency has issued 27 vehicle recalls on Eurocargo. The most recent is from March 2013, with more than 6,000 vehicles were recalled with a warning that the 'dash warning light may fail to illuminate'.
Why buy?
Iveco sells the Eurocargo as a workhorse that can move anything from every sector in road freight in an efficient and functional manner without burning a hole in your pocket. Although some high-volume end-users save money with 'as standard' specification those who put some thought into how it might be used have reaped the benefit by getting a wagon that has oomph with solid residuals. Iveco has always remained competitive in terms of kerbweight and price tag, and it has to be commended for its emission strategy; SCR-only continues to pay dividends.